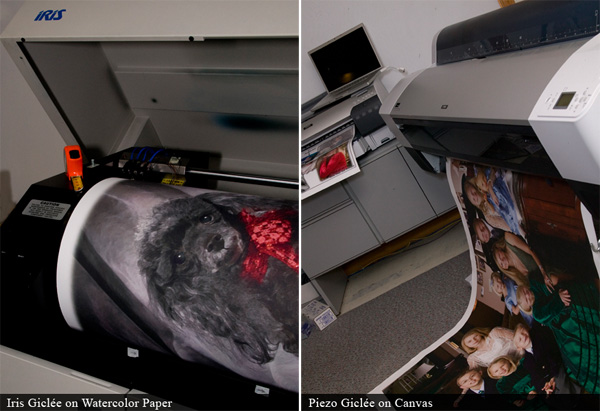 The word giclée is a feminine noun that means a spray or spurt of liquid. The term "giclée print" signifies a new era in fine art printmaking using digital tools. The giclée process reproduces photographs and original paintings with greater color accuracy by printing with archival inks in dye or pigment form onto watercolor papers, artist canvas and textile fabrics.
Dye based giclée prints work best with uncoated watercolor papers. The Iris giclée process is a 300dpi drum printer for 34"x46" watercolor papers up to 500 gram weight. This digital printer overprints four soy-based dyes of cyan, magenta, yellow and black in pin-like registration for multi-layering. The finished print is a breathtaking continuous tone image of painterly quality.
Piezo giclées work best with coated artist canvas and coated watercolor papers using 8-color pigmented inks. The color gamut of this process is larger than that of the Iris printer. The prints can be up to 44" wide and three times longer than the Iris prints.